Minivator Stairlifts supplied by Assured Stairlifts
Specialists in Straight and Curved Stairlifts, either New or Reconditioned, best prices guaranteed.
Minivator Stairlifts - from £1950,00
Minivator have a range of straight stairlifts from £1950.
Designed by a team of experts who have distilled all that a stairlift should be into a compact and unobtrusive unit; these simple yet stylish designs deliver a safe and reliable way to overcome the problems posed by stairs.
The Minivator Simplicity straight stairlift offers a safe, practical and reliable way of overcoming the problem of getting up and down stairs If you do not require powered options, and you have a straight staircase, the Simplicity offers you a safe and cost effective way to overcome the challenge of climbing your stairs.

The upholstery is available in Sand coloured wipe clean flame retardant fabric, the footplate and seat swivel are manually operated, and it comes with a clip seat belt as standard.
The Simplicity Series track offers a continuous charge function meaning that the lift can be parked on any part of the track when it is not in use. This means you do not need to worry about where you leave your lift on the track as the batteries will charge in any position. This model can have a manual hinge or a Slide Track if required.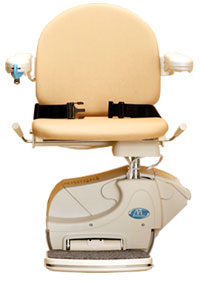 The Minivator Simplicity+ straight stairlift comes with the Smart Seat and optional powered features. It offers a safe, stylish and reliable way of overcoming the problem of getting up and down stairs.
For those requiring powered options, the Simplicity+ is a stylish solution to overcome the challenges of climbing straight stairs. It combines the continuous charge track of the Simplicity with the seat of the Minivator 1000 which means it is available in a selection of six colours.
The Simplicity+ offers the choice of manual or powered folding footplate and swivel option and is compatible with the Slide Track, powered and manual hinge systems so if you have a doorway close to the bottom of your stairs the Simplicity+ offers you a range of solutions to prevent the track from causing an obstruction.