Reconditioned Acorn Stairlifts
Assured Stairlifts are specialists in Straight and Curved Stairlifts, Top Quality and Value for Money Guaranteed.
Reconditioned Acorn Stairlift: £875.00
The Acorn stairlift can be tucked up against the wall with footrest, arms and seat all folding to make the chair slimline so others can use the staircase. Included is a remote control system for "calling" your stairlift to your feet.
The joystick is simple to use, just press in the direction you require to travel. The stairlift comes with a number of safety features including a safety belt, stop sensors and safety key which enables the user to lock the stairlift after use.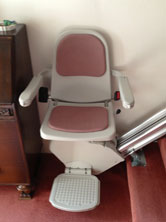 Specifications:
Easy to use joystick control
Swivel seat – no need for twisting to get on and off
Remote control system for "calling" your stairlift to your feet
Sit/stand option
Slim fitting lift ensures stairs can still be used – 13″ approx from the wall when folded
Safety sensors stop the lift in case of obstructions
The lift can be fitted & tested in around 1 hour with no mess & fuss. (Our engineers carry their own "Henry" vacuums and will clean up after installation)
Arms, seat & footrest fold neatly away when not in use allowing room for other users on your staircase
No unsightly structural work as the stairlift is fitted to stairs, not the wall and if removed it will leave no damage to stairs or carpets
Carries up to 20 stones weight