Bespoke Curved Stairlifts supplied by Assured Stairlifts
We are specialists in Straight and Curved Stairlifts, either New or Reconditioned, best prices guaranteed.
THE RECONDITIONED BS101 STAIRLIFT - FROM £2975.00
The stylish BS101 is designed specifically to go on curved or more complicated staircases: it negotiates bends, landings and corridors with ease and can be installed on either side of the stairs enabling us to accommodate almost any staircase configuration.

The BS101's slim carriage and rail also makes it suitable for narrower staircases and when folded away leaves plenty of room for other stair users. Operating the BS101 couldn't be simpler with push button controls or optional joystick it glides gently up or down stairs with ease and the swivel seat makes getting on and off the stairlift easy and safe.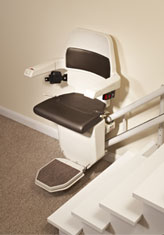 The stairlift's battery powered motor also ensures a smooth gentle ride and with automatic charging from the top and bottom of the rail you can be sure it is always ready to use, even in the event of a power cut.
FEATURES:
Cushioned stop/start ensures smooth gentle ride
Battery powered – the Stairlift works even in a power cut
Automatic charging at the base & top of the staircase ensures lift is always ready
Automatic slowing on bends ensures a comfortable ride
Swivel seat for ease of transfer on to top landing
Slim tubular rail is fixed to stair treads and can be tailored to fit either side of the staircase
Hinged rail option available where the rail may obstruct a door or walkway means it can fold up out of the way when not in use
Top or bottom parking wraps or landing run-ons available for "Off Staircase Parking"
Fast Installation – the BS101 can be installed in hours